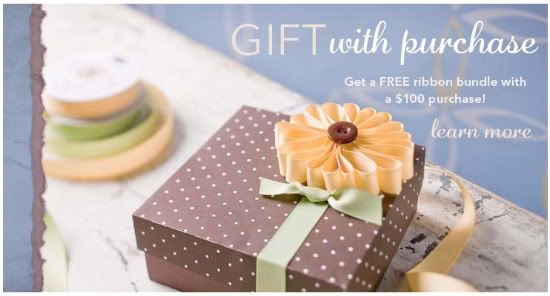 To show appreciation to all our customers
and hostesses, we're offering an exclusive
ribbon bundle FREE with a qualifying purchase or workshop!
CONTACT ME TODAY AT  (stampin@vanessawebb.net) TO GET YOUR FREE
EXCLUSIVE RIBBON BUNDLE
(Bundle includes 9.1 metres each Certainly
Celery 5/8" poly-twill ribbon and So Saffron 5/8/" Grosgrain)
From 1-30 September, Stampin' Up!® is
giving you a FREE ribbon bundle when you:
Spend $100 on any
Stampin' Up! products
or
Host a $600 workshop
Now to finish sharing my photos of Noosa with you all……
Friday morning was spent doing what we love to do best : stamping!
Before we started Shelli wanted to get a photo of us all…….here's Sterling giving her some artistic direction for the group shot lol.

I can't show you what we made as we used our brand new stampsets and accessories (not yet available in any catalogue) to create 3 gorgeous projects especially designed for us…….I will post these as soon as I am able to ;).
Here's a pic of who was at our table for the make-n-takes:

It was so much fun sharing some creative time with these guys : Claire, Steph Shelli, Yvonne, Myself and Keesh (seated).
After we had finished our projects, one of the hotel waiters wheeled out a HUGE trolley of gourmet icecream with delicious toppings and condiments, just for us!
Lets just say,  that those of us who are usually a little slower at stamping than most were a little quicker than normal to finish of our projects that morning;)


After Make-n-Takes we dropped in to the Hospitality Desk to spin the wheel and pick up a stash of US goodies that were on display for us to help ourselves to each day (those Peanut Butter cups were sensational and I was thinking all the while it's just as well we don't have them here in Australia!!) :


Here's me spinning the prize wheel. Over the entire 5 days I won, 2 pairs of Paper Snips, Walk in the Park DSP, Baja Breeze Double stitched Grosgrain ribbon, Jumbo Brads and 2 lots of Button Bouquet:


That afternoon Simon and I had booked in for a spa treatment that included a body scrub and massage and use of the hydrotherapy spas…..just heavenly! That day we received yet another gift from Stampin' Up!, lots of kitchen inspired goodies nestling in a large wooden salad bowl the yummy hand cream was from Victoria's Secret ("underware in a bottle" as Teresa described it lol!):


Simon and I then went out to a cute little Italian place for dinner (no kids!) and strolled the main street afterwards to look for a place to have dessert. I have to say it was very nice to have some time to ourselves and not to have to be anywhere at any particular time :).
For breakfast the next day we strolled along the main street once again and popped into one of the many cafes. I ate Eggs Benedict (my absolute favourite breakfast) cooked 5 different ways while I was away *blush*.


That afternoon we spent a few hours lazing by the pool, sipping cocktails and reading……which was BLISS. Then it was time to get dressed up for our farewell dinner. The location was a very well-kept secret…..all we knew was that we were going to be "stepping back in time" at some point during the evening……

Me and Alisa :

The lovely Miss Kerri:


Linda and Tanya (Teresa's guest for the trip) both looking gorgeous :


We hopped on a coach for the first part of our mystery tour before stopping at a little town just outside of Noosa to be met by a row of Vintage cars!! These were to take us on the rest of our journey to where we would be having dinner:


Linda, Claire and Sue in their ride…..

We were to share this little green Austin with Vicki and her hubby…..

Vick and the boys getting cosy in the back………I think people must have been a lot smaller in those days, because it was a little squishy …..the driver mistook my knee for the gear stick a couple of times lol…..  but it was heaps of fun and a real thrill to ride in one of these classics…….

Arriving at The Plantation – a luxury Guest House for our meal ……you can see the paper lanterns that lined the  drive way in the background…….


With drinks in hand, we wandered around the rooms of the Guest House:


We met the chefs preparing our meal in the gourmet kitchen:


And strolled around the gardens:


Before sitting down to a beautiful meal. At each demonstrator's place setting  there was a gift, a beautifully soft Pashmina shawl…..


As this was the last meal we would share all together, Shelli got up to say a few words and gave away a set of Marvellous Markers too!


Me and Shelli :


After being spoilt by so many gifts and surprises, the last thing we expected when we returned to the Resort was this waiting for us on our beds :

A HUGE adjustable size bag with leather handles embossed with the Stampin' Up! logo plus a little hat box with cookies (and milk in our refridgerator to go with them – too cute!). It was such a lovely final touch to a wonderful evening and a fabulous holiday.
We shared cardtricks and laughs in Marelle and Dave's room until the wee hours (I do have some photos but thought it best to keep the "what happens on Incentive Trip stays on Incentive Trip" rule in this instance lol) before making our way sleepily back to our rooms, not quite wanting to believe that the next day we would be heading home and back to reality!
Breakfast at the resort on our last morning:


Me with Janeil and Angie from Stampin' Up! Home Office in Utah,who made our time just sooooo special (thanks gals!):


Linda wondering how she is going to get all that luggage on the plane! Note the spunky new footwear 😉 :


We returned home to 3 beaming little people, very happy to see us again and dinner already cooked for us (thank's Mum Webb!) feeling very relaxed and pampered. A BIG thanks to our Mums and to our dear friends Colette, Lisa and their families for looking after our kids so well for us so we could enjoy this special time away together – just the two of us.
Also, A BIG "thank you" to Stampin' Up!, for not only providing such great support for your demonstrators so that we can run our business in a way that suits us and fits in with our families, but also providing such a fabulous incentive in an all expenses paid trip for two each year! You really know how to look after us and to show your appreciation for what we do.
I also need to thank each and every one of my customers, hostess's, blog readers and Inky Fingers team members for your support and friendship and for allowing me the luxury of waking up to a job that I love everyday! Because without you, none of this would be possible.