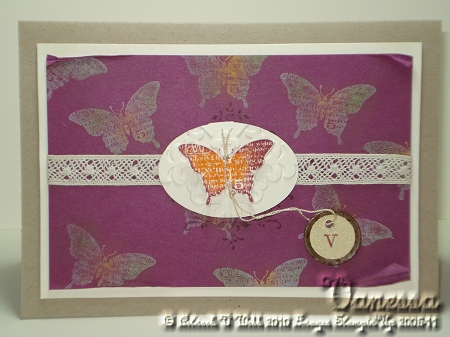 We have been busy…..very busy! The long gaps between posts lately are because we have been "backyard blitzing" and "renovation rescuing" our home of 11 years to list for sale. Those of you who have bought and sold property before will know what a hair-raising, roller-coaster of a ride it can be.
Our first open house is set for tomorrow and we are very excited and nervous to say the least!
We hope to move to a bigger place that fits our growing family as well as provide us with space for my Stampin' Up! business. I will let you know more about our new place as things are finalised there!
Needless to say, that although I have been stamping and having fun at Sale-A-Bration workshops these past few weeks have left little time for coming in here and blogging!
I did want to break the "drought" today and share with you a card that I had in my last customer newsletter using the new Sale-A-Bration Set "Bliss" which you can earn for free with any qualifying order until March 31.
I used the Chalk-Board technique for this card. If you'd like to know more details about this please email me and I'll walk you through!
Did you know that my newsletter customers receive exclusive tutorials and helpful hints as well as a chance to participate in my competitions?
Not already subscribing? Simply click on the link to the right and I'll add you to my list so you don't miss out on any more.
I'll be back again soon…..hopefully with some more news about our big move!