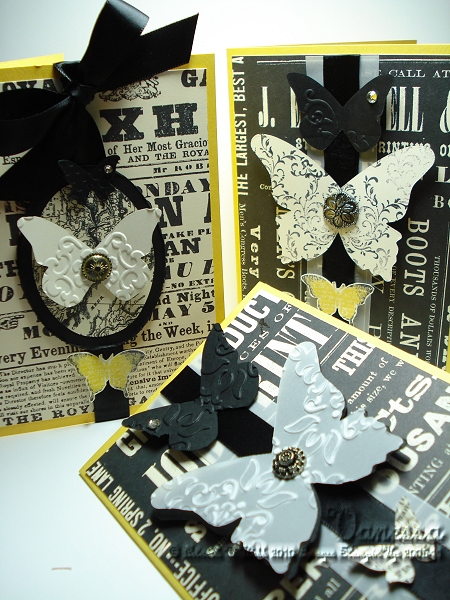 Every time I hear Michael Caton's voice over on  that McDonalds ad it gives me a laugh 🙂 – "Not schmancy, just a little bit fancy" describes the style of these cards quite nicely I think lol!
I have seen some other cards around using this colour combo : Basic Black, Very Vanilla and Daffodil Delight (which has finally cured me of my "yellow phobia") and always wanted to give it a try. I really liked playing around with the different textures – the vellum and satin ribbon plus the Rhinestones.
When I was designing these cards I had the idea of using the Ovals (cut with the Ovals Die in my Big Shot) to create a cameo focal point on the card. It was easy designing the other layouts as the butterflies are also wonderfully symmetrical so the Beautiful Butterflies die worked in well.
I have to say that my favourite part of cards was working with the vellum…..it just looks so awesome when you layer it over Designer Paper or emboss it – I have embossed the butterfly using the Vintage Wall Paper  Texured Impressions folder before layering it over the top of another die-cut butterfly……it reminds my of chantilly lace over black stockings……very "Picnic at Hanging Rock"!
Here's a close-up of the butterfly :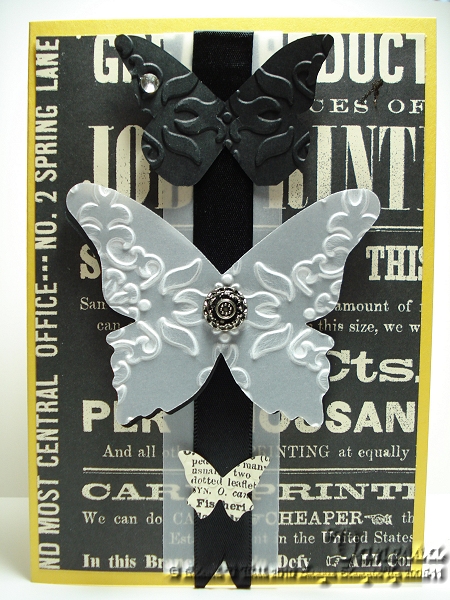 Here's a list of what I've used for my three cards above, everything is available from Stampin' Up! through me including the free Sale-A-Bration set "Bliss" – but ONLY until March 31!
Stamps : "Bliss" Sale-A-Bration set
Ink : Basic Black, Daffodil Delight
Paper/Cardstock : Daffodil Delight, Basic Black, Very Vanilla, Newsprint Designer Series Paper, Vellum Cardstock
Accessories : Big Shot Die Cutting Machine, Beautiful Butterflies Die, Beautiful Wings Embosslits Die, Ovals Die, Vintage Wallpaper Textured Impressions Embossing Folder, Antique Brads, 1.6cm Black Satin Ribbon, Glue Dots, 7-sided Distressing tool from Cutter Kit, Sticky Strip, Basic Rhinestones.