Ribbon Share!
We have some gorgeous new ribbons in our current Idea Book and Catalogue, so I thought it was time for another Ribbon Share!

This share gives you the chance to have a selection of ALL the colours in two different ribbons for a fraction of the price of buying an entire roll.

Ribbon Share A : Receive 2.29m approx of each of the 5 colours available in the NEW In Color Ruffled Ribbon. The cost of this share will be $25. You'll get 2.29m of each of Calypso Coral, Island Indigo, Lucky Limeade, Pool Party and Wisteria Wonder ribbon.

Here is a sample of the Ruffled Ribbon in Island Indigo –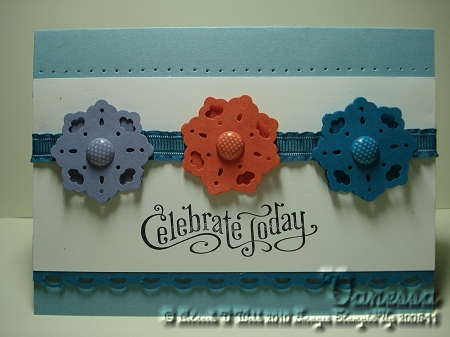 Ribbon Share B : Receive 2.29m approx of each of the 7 colours available in the NEW Seam Binding. The cost of this share will be $24.
You'll get 2.29m each of Always Artichoke, Baja Breeze, Cherry Cobbler, Crumb Cake, Pear Pizzazz, Rose Red, Very Vanilla ribbon.
You can see the gorgeous Crumb Cake Seam Binding tied around the top of some of these tags (see how it shimmers in the light?) –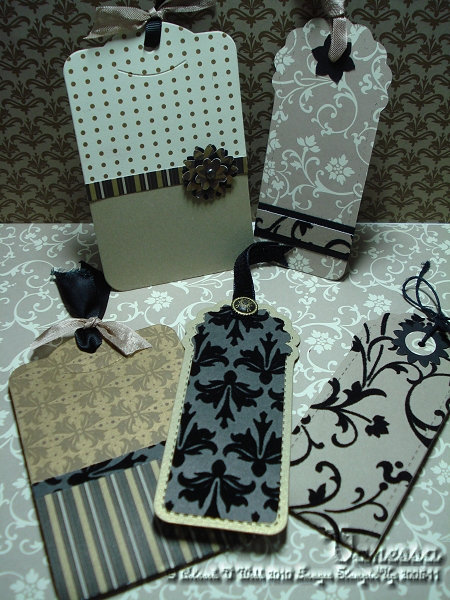 OR

you can choose to take part in both shares A and B then the total cost will be $45 (which means you get a discount and your shipping is free).

Please contact me to take part in the shares by emailing me at stampin@vanessawebb.net and let me know whether you would like share A or B, or both and I'll organise payment details with you then also.

This is a great way to get all the colours you want – at a fraction of the cost!