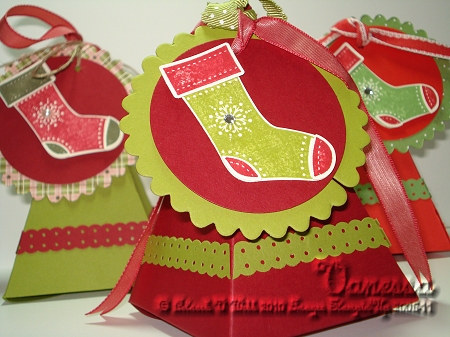 Last month I made these cute little Petal Cone ornaments/gift boxes for my hostesses at their workshops filled with some special "thank you" goodies.
The basic box it made from 2 petal cones (cut from 2 A5 sheets using the Standard Premium Crease Pad on the top of the sandwich) stuck together with a piece punched with the Dotted Scallop Ribbon Border Punch cut so theat it wraps around the box with some Snail Adhesive.
I actually punch a small hole in the top of the pyramid with my Cropadile for the ribbon to thread through. The scallop circle tags are made with the same die ans the two 1.2 circles are stuck together held by the paper circle (punched with the 1 and 3/4″ Circle punch).
NEWS JUST IN!!! YOU CAN PURCHASE YOUR STITCHED STOCKINGS STAMP SET AND PUNCH EARLIER THAN THE RELEASE OF THE MINI CATALOGUE FROM TODAY – TUESDAY 22ND NOVEMBER!! CONTACT ME TO ORDER YOURS AND MAKE A START ON THOSE CHRISTMAS CARDS AND GIFTS.
Don't forget I am holding my Mini Catalogue Launch and Cancer Council Fundraiser this coming Sunday the 27th, 2pm at my place. Please email me for more details if you wish to join us. You can also make a donation at my official fundraising site HERE. Thanks in advance for your generous support!