Just popping in to share some pics from the Penrith Papercraft Show earlier this month!
We had a great show – met lots of lovely new customers and caught up with friends while we spent time sharing what we love with everyone who visited our stand :).
Here is my lovely team member Leonie and  at the Make-N-Take table :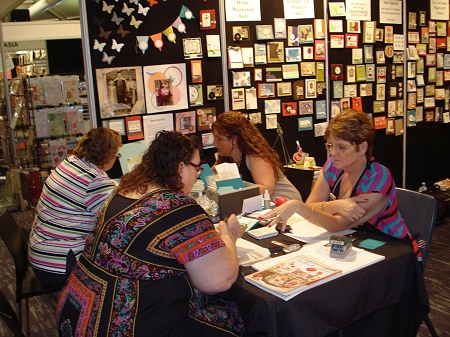 One of the best parts of my job is getting to hang out with friends whom I have met through Stampin' Up! This lovely lady (Linda Higgins) and I chat nearly every day online so it's always a blast to spend time together IRL :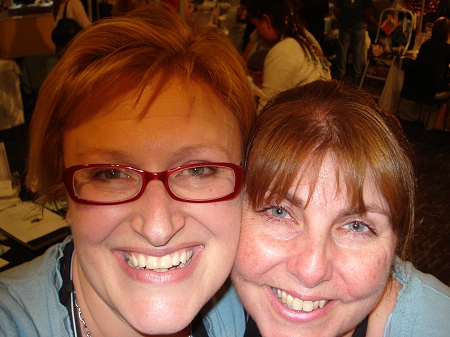 We just happened to wear almost exactly the same outfits that day too (spooky!) lol
During the show I demonstrated some different ways to use the Pillow Box Die (which is one of the dies on special this month – 10% off).
At my workshops this month, too, I have been showing guests how to create a smaller and a larger Pillow Box with the same die (just folding and moving the card stock will give you a different sized box!). If you have been a hostess this month you would have received one of my altered Pillow Boxes filled with goodies – lucky you!
Here is another example of a different box that you can create with the Pillow Box Die :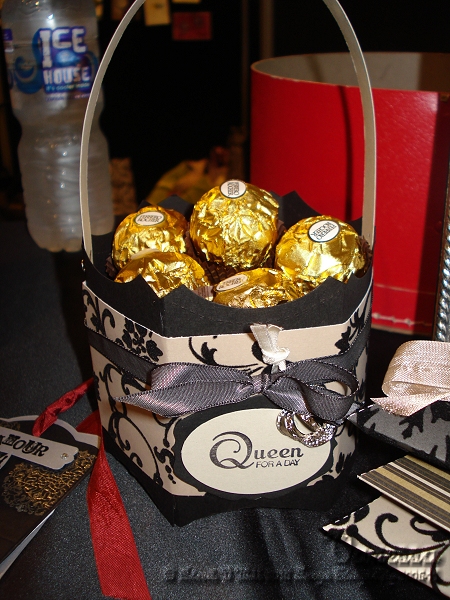 This bucket was created from 3 Pillow Boxes cut from Basic Black cardstock and covered in Mocca Morning Specialty Paper (flocked). I can show you how to put one of these together at your workshop – just ask me when you book :).
What a great month it's been for stocking up on Big Shot accessories!
You can take advantage of the great prices available for the Big Shot, dies and embossing folders until the sale ends November 30.