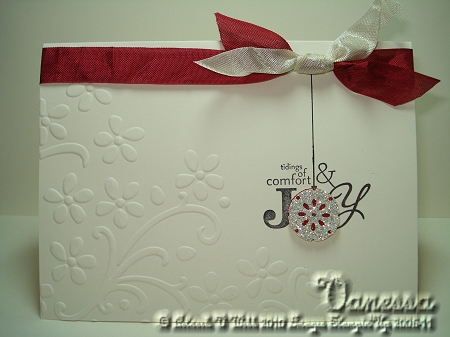 I am slowly working through my "To Do" list for this week but I am still yet to get on to sending out my Christmas cards *sigh*. If you don't receive a Christmas card from me this year please consider this one as yours!  Merry Christmas!
This is a prototype of the ones we gave our teachers for this year along with some special hand-made gifts also shown below. I shared these with my newsletter readers earlier in the month and got some great feedback, so I thought I would share on here as well 🙂
At Christmas…..I believe in keeping things simple and focussing on the important stuff…..and this card sums up for me what I want Christmas this year to be about.
Some decorative Christmas Bunting :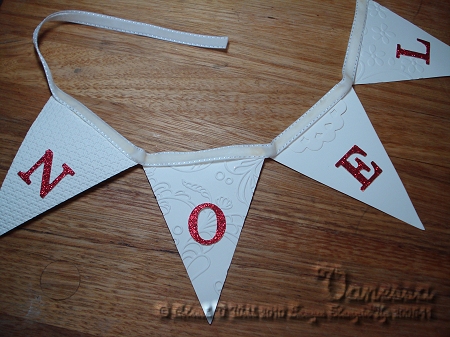 Here's a close-up of the yummy new Very Vanilla Velvet Designer Ribbon :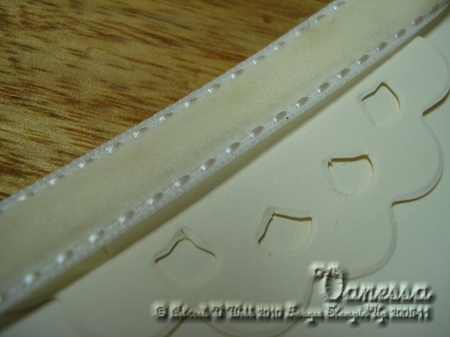 And a simple idea for a decorative  tree (I got this idea for this one from one of our Demonstrator publications):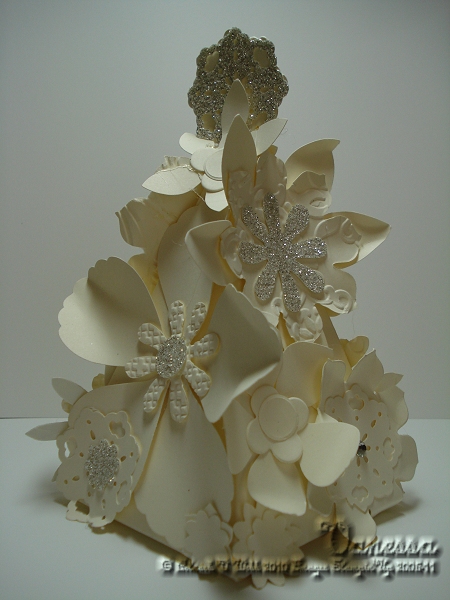 For all three of these items I've used Very Vanilla Cardstock and my Big Shot to create the shapes and the detailing. Pretty easy really. The new Glimmer Paper has had a good workout this Christmas…..what an easy way to add sparkle without the mess!
The lovely thing about this simple elegant style using a neutral colour is that it would be equally at home at a wedding, or as an all year 'round home decor idea, matching with any colour scheme you'd care to put with it.
Just a little aside : the "bauble" on my card was created with the 3/4 " Circle Punch. I punched out some red Glimmer Paper and then the middle of the Doilie from the Triple Layer Doilie punch was layered on the top with a glue dot so you can see a glimpse of the red sparkle underneath.
Here's  close-up :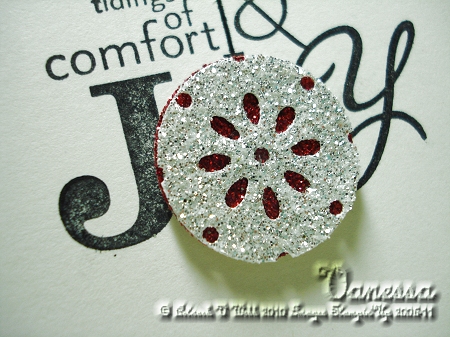 If you are creating some of these yourself, don't throw away the ring once you've punched the centre out of your Doilie because you can use it in your gift wrapping or on another project. Eg: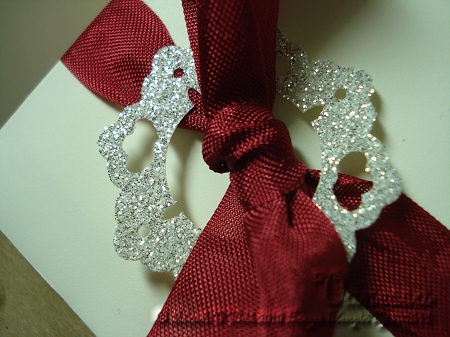 Here's a list of the product what I've used to create the projects above :
Stamps – Word Play
Ink – Cherry Cobbler, Black Stazon, Black Stampin' Write Marker
Paper – Very Vanilla, Silver Glimmer Paper, Red Glimmer Paper.
Accessories – Big Shot Machine, Elegant Bouquet, Elegant Lines, Square Lattice, Vintage Wallpaper Textured Impressions Embossing Folders. Perfect Pennants Bigz L Die, Timeless Type Medium Sizzlets Die, Blossom Party Bigz Die, Petal Cone Die (for tree base), Blossom Petals Builder Punch,   3/4 " Circle Punch, Triple Layer Doilie Punch, Ruler, Cherry Cobbler, Very Vanilla Seam Binding, Very Vanilla Velvet Designer Ribbon, Hot Glue Gun.
Merry Christmas everyone! I hope that this Christmas is simple………and special too!