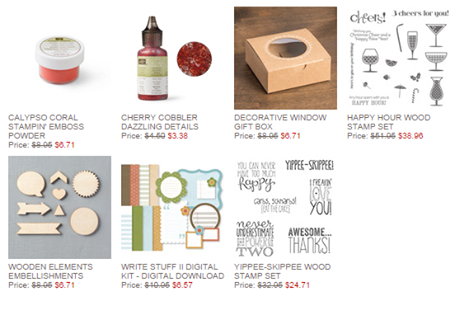 This week's Weekly Deals are picture above……all products are from the current Catalogues, all reduced in price for the next week. Get your bargains in my store HERE.
This month's Stamp-A Stack has been changed to next Monday September 22nd as I was unwell last week. Here are the cards we'll be creating :
3 of each design for $20. If you are familiar with the Holiday Catalogue you may recognise the designs (I have changed /simplified them a little but the layout is the same). The Stampin' Up! catalogues are a fabulous starting point for designing and creating cards, scrapbook pages, and 3D items……and I love the spirit of Copy And Share Everything (CASE) that Stampin' Up! embraces so well.
Please contact me for more information on my classes, to book in to a class or click on the link at the top right of my blog to sign up for my monthly  newsletter so you don't miss a thing :).
What have you CASEd lately?