You may have arrived here from Ann's Blog. Welcome!
First I'm shouting out an "Aloha" to my little sister Julia who will be along with me for our Hawaiian adventure in a few short weeks – all organised and paid for by Stampin' Up! – do I need to tell you how much I love my job as a Demonstrator? This will be my 9th Incentive Trip with this wonderful company…….and each one has been AMAZING.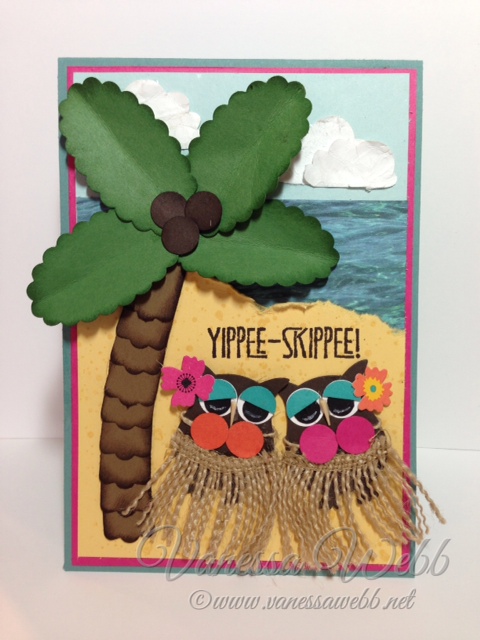 My Hawaii Blog Hop project is a collaboration of many different sources and inspiration 🙂
The punch art Hula-owls were inspired by some samples I saw on Pinterest……. I adapted and changed the design to incorporate a "grass skirt" made from the frayed Burlap Ribbon and I also added a toothpick tip for the owl's "beaks". If I owned the "Happy Hour" stamp set I would have put a cocktail in each of our hands (wings?)………I think there may possibly be a few cocktails enjoyed by the infinity pool at the Sheraton in Waikiki during our stay ;).
Some of my own Stampin' Up! Team members helped me with the background – thankyou Denita for the suggestion of using a skerrick of the Adventure Bound Designer Series Paper for the ocean – I think it works!
I have Clare Langsford at our Stampin' Up! Head Office here in Australia to thank for the design of my Coconut tree trunk…….what a clever use of the Modern Label Punch!
I've used some SUPER-complicated techniques  (i.e. crumpling and tearing!)  to add texture to the sand and the clouds and the scene is complete 🙂
Can you feel the sand between your toes yet Jules?
Your next stop is Sandi MacIver's blog……..thanks so much for stopping by……….please visit again soon!



Below is the list of ingredients I've used  to create my card (99.9% of which come from Stampin' Up!).
To order, please visit my Online store  24/7,  or shop with your local demonstrator :

Gorgeous Grunge Wood Stamp Set

130514

Price

:

$42.95
Yippee-Skippee Clear Stamp Set

131344

Price

:

$25.95

$19.46

So Saffron, Early Espresso, Garden Green Classic Inkpads – $9.95 each.


Lost Lagoon, Melon Mambo, Soft Sky, Garden Green, Soft Suede, Early Espresso, Tangerine Tango cardstock – $11.95 for 24 sheets, Whisper White cardstock $14.95 40 for sheets.

Builder Owl Punch

118074

Price

:

$29.95
Cupcake Builder Punch

121807

Price

:

$29.95
Modern Label Punch

119849

Price

:

$29.95
Scallop Oval Punch

119856

Price

:

$29.95
Let's Get Away Project Life Accessory Pack

137908

Price

:

$16.95
Adventure Bound Designer Series Paper Stack

137780

Price

:

$11.95
1-1/4″ Burlap Ribbon

132140

Price

:

$13.95
Stamping Sponges

101610

Price

:

$5.95
Adhesives :