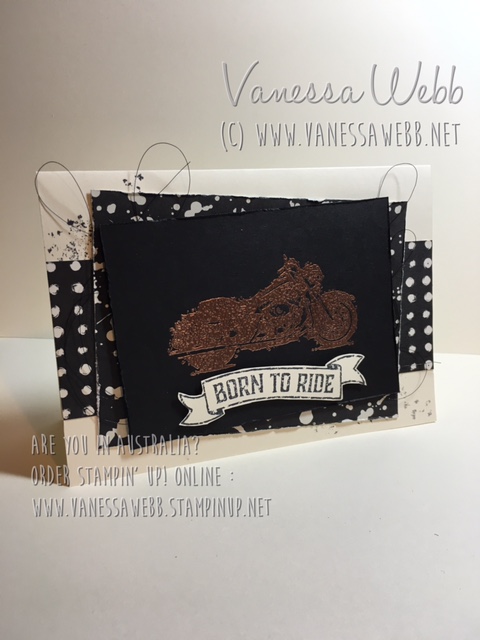 Looking for that perfect set for bike fanatics? One Wild Ride is one to add to your wishlist whether you are looking for a fun set for all-occasions or a easy to use masculine themed set, this one can be used in lots of different ways with various stamping techniques. On this card I've used heat embossing with the new Copper Embossing Powder. If you haven't yet tried this new powder…….you need to add it to your next order…..it's awesome! It's thick and brings out the details of the stamped image all at the same time 🙂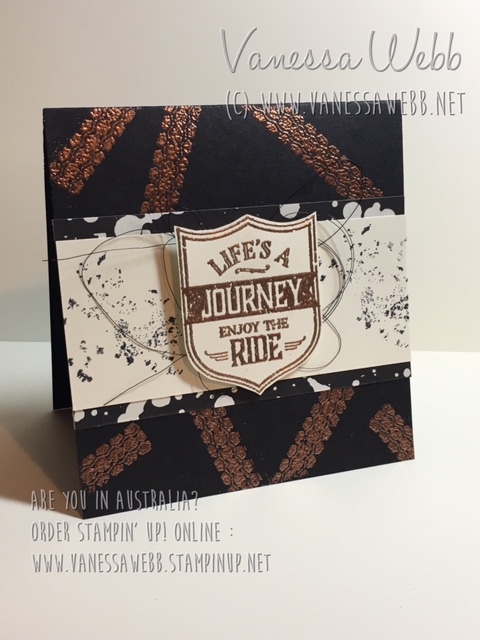 Apart from the Bike and greetings, there's also a couple of awesome textured stamps which make great back grounds. I can see some great Fathers Day and masculine cards in my future…….
Here's the ingredients list for the cards above (all items available in my Store or order via email/phone : stampin@vanessawebb.net/0407 407 540) –
Product List
Follow my BLOG – don't miss a thing!
Visit my Online Store to browse and shop the Catalogue, Clearance Rack and more!
Click to view the PDF of the new Catalogue
SHOP NOW : www.vanessawebb.stampinup.net
Contact me SMS 0407 497 540 to request your own copy (Australian residents only).
Sign up for my newsletter to get regular updates and new catalogue announcements!
Subscribe to Vanessa's FB feed to see what I get up to in my studio – exclusive samples, videos, Give-aways and more!
Follow me on Instagram for more fun and creative inspiration, search "STAMPINNESS"……see you there 🙂