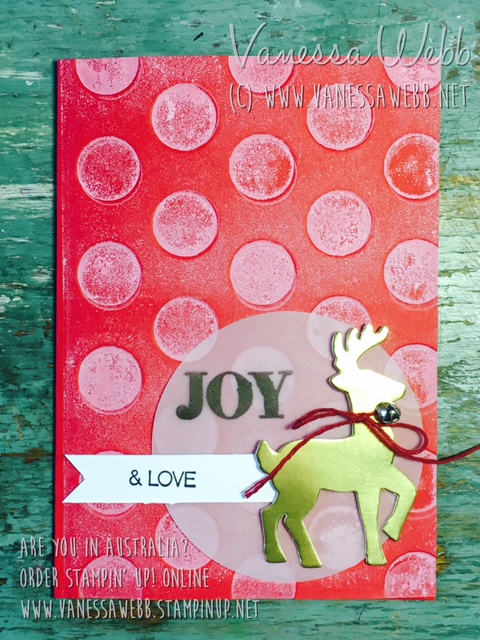 One of the super-cute cards we are making at this month's Stamp-A-Stacks. If you didn't make it to the class in my studio on Monday and want to make this and another equally cute card (3 of each – 6 total) for $22 then let me know and I can bring all the supplies to you at a time that suits you and your friends. Normally my workshops are free…..but sometimes we just want to make a stash of cards when we're in the crafting zone…….that's where I can help! You'll feel a real sense of accomplishment having added 6 Christmas cards to your stash…..plus you get to play host and earn freebies of your wishlist 🙂
Sound like a plan? Contact me (SMS 0407 497 540, or email stampin@vanessawebb.net) if you are local to Wollongong, Southcoast or South/West Sydney and I'll send you my available dates. You'll receive a FREE Annual Catalogue and Holiday Catalogue once we confirm your booking. Looking forward to stamping with you!
Here's the ingredients for the card above (all available in my online store – just click on any image to shop) – HINT : this card uses the inked embossing folder technique! To create the background, I applied Whisper White Ink to the bumpy side o the embossing folder (just smear it on straight from the inkpad) before running it through the Bigshot with the Real Red Card front.
Product List
Follow my BLOG – don't miss a thing!
Follow my videos on Youtube!
Visit my Online Store to browse and shop the Catalogue, Clearance Rack and more!
Click to view the PDF of the new Catalogue
SHOP NOW : www.vanessawebb.stampinup.net
Contact me SMS 0407 497 540 to request your own copy (Australian residents only).
Sign up for my newsletter to get regular updates and new catalogue announcements!
Subscribe to Vanessa's FB feed to see what I get up to in my studio – exclusive samples, videos, Give-aways and more!
Follow me on Instagram for more fun and creative inspiration, search "STAMPINNESS"……see you there 🙂