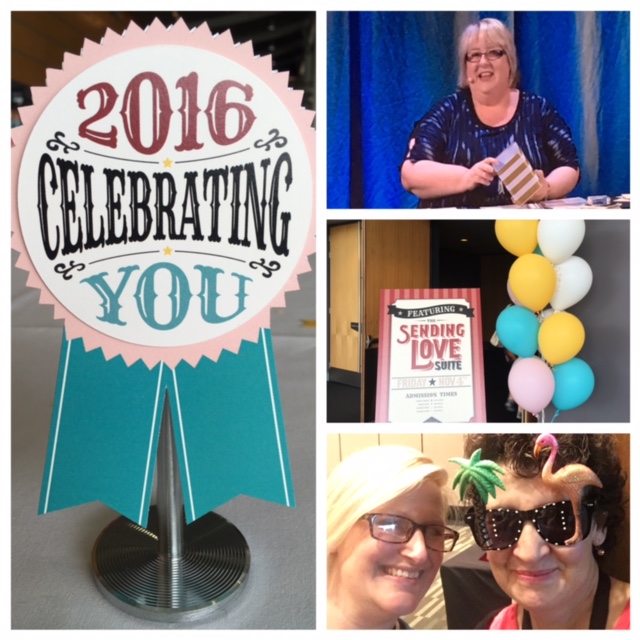 I'm back from yet another amazing Demonstrator event in Brisbane this past weekend. Stampin' Up! held their first On Stage LIVE Thursday through Saturday – and it was quite simply FABULOUS! One thing I will say is that SU! sure know how to put on an event and make it feel like a party :))))
I can only show you a few things as there were some aspects we have to keep under wraps for the eyes of only those who attended for now ;)……but I CAN share some of my favourite snaps with you which hint a bit at some of the fun we had……
This year I was honoured to be placed 3rd for Recruiting in Australia, and 6th overall in the Top 10 for our Country. I want to say "thank you" from the bottom of my heart to all my lovely customers, blog readers, Inky Fingers Team members, Facebook followers and anyone who has supported my business over the past 10 years – and to my wonderful hubby/Supporting Demonstrator and 3 kids – you are all AMAZING and I am so grateful for each of you!
The photo above is of the gorgeous artwork and signage that Stampin' Up! organised for us for the event ….to help us find our way to our classes at the event, the lovely Donna Williams who works in our head office in Sydney, my Inky Fingers team member – Roz Butterworth – who helped out at one of the classes………LOVE those glasses!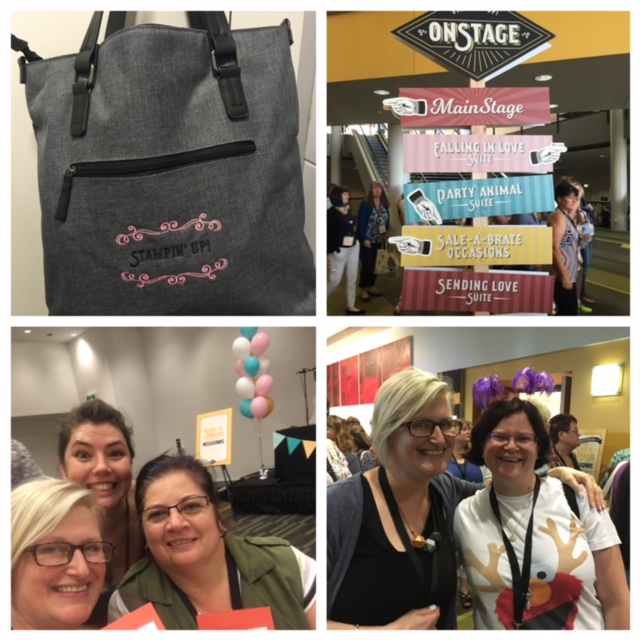 The gorgeous tote bag we received at our Centre Stage Leadership dinner for Silver Elite Demonstrators (Manager Level and above), Leonie – another lovely Team member – and myself being photobombed by Clare Martin (another Head Office Staff Member)…….notice the cards we are holding are out of shot – I can't show you any samples until TOMORROW – so make sure you visit back here then! At bottom right I am with the gorgeous Katie Jones from the UK – it was wonderful to have several overseas Demonstrators join us for our LIVE event that was streamed around the world.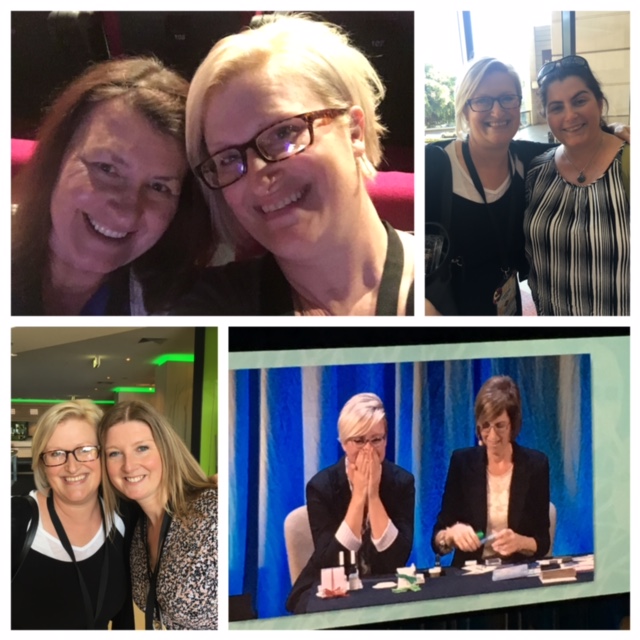 With Lin George, Carolyn Bennie, Carol Dunstan……and, no that's NOT me laughing at Shelli on stage – Shelli and her daughter Sara are sharing an hilarious presentation in our final General Session………what happens when the live feed camera stops rolling 😉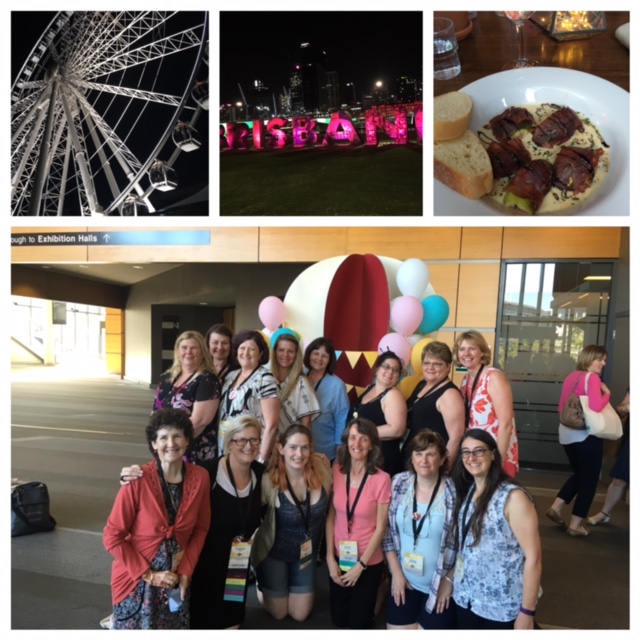 The Wheel of Brisbane, love South Bank by night! The FOOD was phenomenal…….
Some of our amazing Inky Fingers Team who attended the event with us (there are a few missing from this pic!).
Want to be part of the NEXT On Stage Event with us in Sydney in 2017? Find out more about how you can join our fun and friendly Demonstrator community and be included in this and future events – HERE or contact me to request more info!
Some of the benefits you'll receive at exclusive Demonstrator events include –
*Sneak peeks of up-coming catalogues
*Access to exclusive new samples and ideas all in one place
*The chance to pre-order new catalogue products before anyone else (including other demonstrators who didn't attend the event)
*Swapping ideas and inspiration with the wider Demonstrator Community
*FREE product give-aways including NEW catalogue products
*Top quality business presentations
*LIVE  stamping demonstrations
*Mixing and meeting with other Demonstrators from around the Australia and the world
*Creative time-out with fellow crafters
Visit back TOMORROW for some product and samples sneak peeks from Onstage as well as a sneak peek of the new catalogue covers!
Don't forget about my 10th Anniversary Special available through November 30 with (phone and email orders only).
Contact me stampin@vanessawebb.net or 0407 497 540 to place yours and to receive your discount.
Follow my BLOG – don't miss a thing!
Follow my videos on Youtube!
Visit my Online Store to browse and shop the Catalogue, Clearance Rack and more!
Click to view the PDF of the new Catalogue
SHOP NOW : www.vanessawebb.stampinup.net
Contact me SMS 0407 497 540 to request your own copy (Australian residents only).
Sign up for my newsletter to get regular updates and new catalogue announcements!
Subscribe to Vanessa's FB feed to see what I get up to in my studio – exclusive samples, videos, Give-aways and more!
Follow me on Instagram for more fun and creative inspiration, search "STAMPINNESS"……see you there 🙂