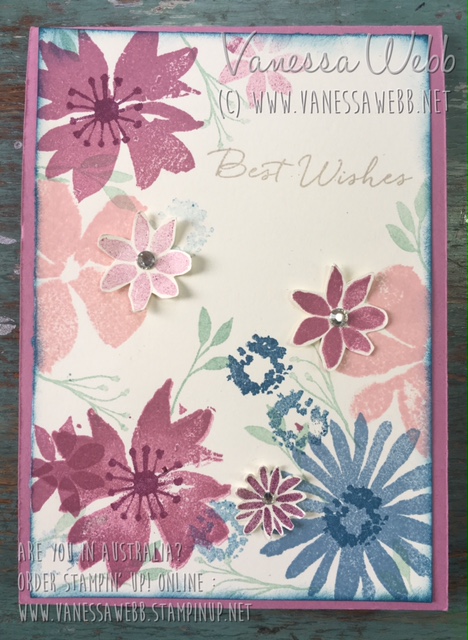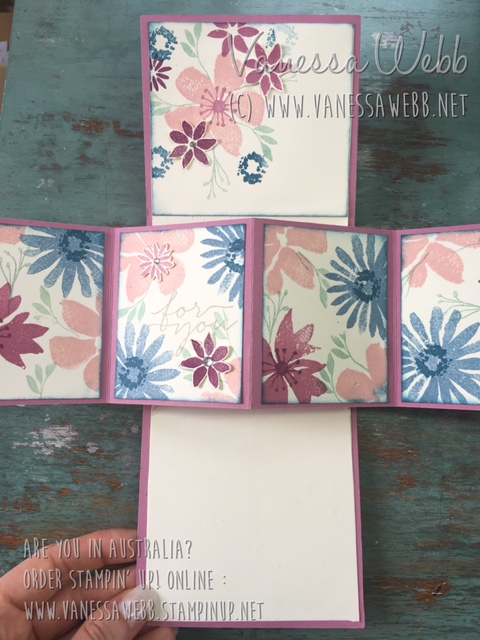 This is such a cool card but when I went looking for the instructions to make it I could only find Imperial measurements……..so I thought I would work out the instructions and measurements in centimetres for those of us who work in Metric 🙂
Here's what you'll need cardstock-wise :
1/2 sheet A4 cardstock cut lengthways in colour of your choice folded in half for card base
1 strip of the same colour 8.5x28cm
1 sheet  Very Vanilla cardstock
4 pieces of cardstock 6.5x8cm(for 4 inner pop-up panels)
2 pieces 10x9cm
1 piece 10×14.4cm for card front
Other things you'll need :
Bone Folder
Simply Scored
Stylus
Metric Plate
Tombow Glue
Instructions :
Cut 1 cm off 2 sides of the Very Vanilla  A4 sheet
Place short side of Very Vanilla  at the top of the Metric Plate and score 5cm in from each long edge
Place long side at the top of the Metric Plate and score 10cm in from each shorter edge
Cut 4 corner rectangles out and trim the side flaps (as shown in video)
Bring side flaps up to line up with verticle score line to create diagonal score lines
Fold down mechanism and glue into card base
Score along 8.5x28cm piece every 7cm
Adhere scored 8.5x28cm piece to mechanism by gluing it down on diagonally opposite sections separated by score-lines to create the twist mechanism
Decorate smaller pieces with stamping and sponging and adhere them to the front and inside of the card as well as on the 4 sections of the twist panel
Here is another idea for a card created by my lovely customer Karen :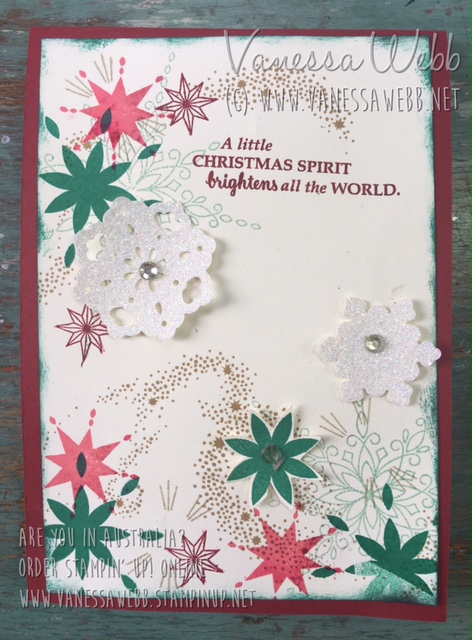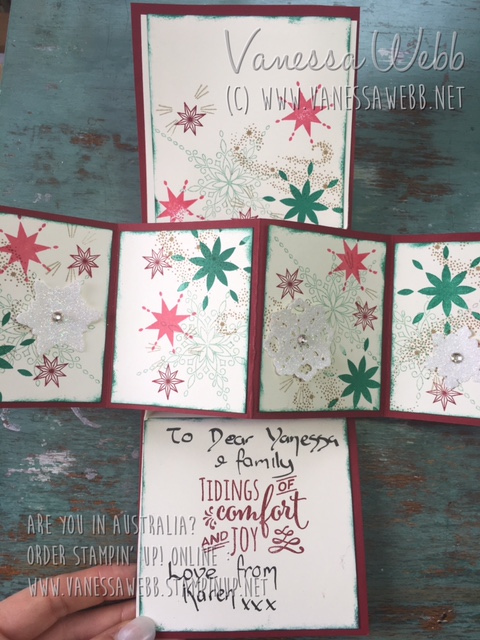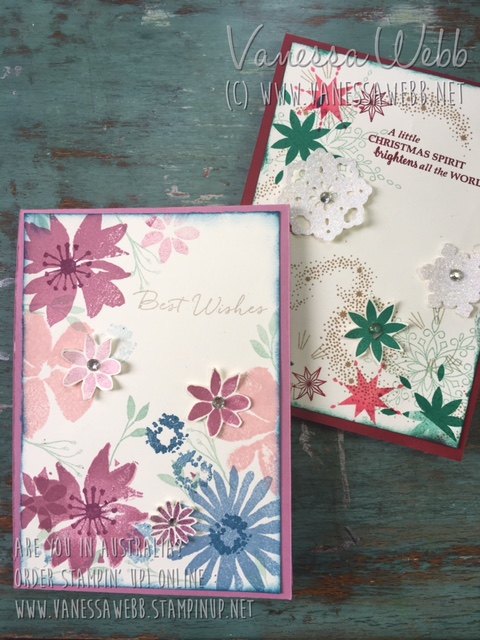 Make sure you check out my Youtube video with verbal instructions and a full demonstration on how to put it together before making this card HERE.
Product List
Follow my blog by clicking on the button to the right – don't miss a thing!
Follow my videos on Youtube!
Visit my Online Store to browse and shop the Catalogue, Clearance Rack and more!
Click to view the PDF of the new Catalogue
SHOP NOW : www.vanessawebb.stampinup.net
Contact me SMS 0407 497 540 to request your own copy (Australian residents only).
Join my Stampin' Up! Community HERE.
Sign up for my newsletter to get regular updates and new catalogue announcements!
Subscribe to Vanessa's FB feed to see what I get up to in my studio – exclusive samples, videos, Give-aways and more!
Follow me on Instagram for more fun and creative inspiration, search "STAMPINNESS"……see you there 🙂