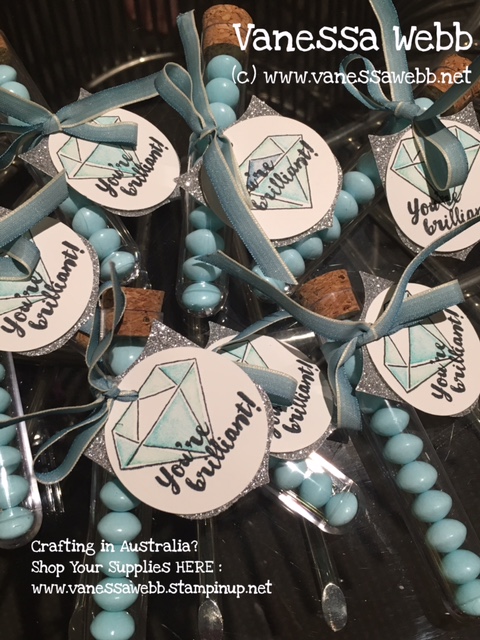 You're Brilliant!
I don't normally share much of my personal life here on the Blog……but it's been a bit of a crazy time here in our house these past few months and I haven't had a lot of time to sit down and reflect.  In order to fill you in, I need to prepare you for the fact that this will be a longer than normal post as I have lots to share! So grab a cuppa and sit tight! (those of you who follow me on Instagram and Facebook will already know about some of this!)
First of all, thank you so much for continuing to read my blog! I truly think it a privilege to be able to continue sharing my passion for paper craft on here with you all – your support is quite simply brilliant!
This year my eldest daughter completed her HSC – yay! This was out first foray into the world of senior Secondary study ……and I'm pleased to report that we all survived! My admiration for all those who sit through the rigours of such a mammoth undertaking (and also those who support them through it) has grown immensely.
These past few months have been full : we've had my sister visiting from OS, the launch of the Holiday Catalogue, an HSC  music performance and 2 major works to complete, the HSC exams, Kitchen renovations, the Penrith Paper Craft Show to organise and then last weekend headed to Stampin' Up! Onstage in Melbourne for the launch of the new Occasions Catalogue!
In between all of that I want to thank my fabulous Stampin' Up! team, customers and blog readers for your continued support of my business this year! Stamping was definitely my therapy this year more than ever and it was great to be able to share what I love with you all. I truly feel that I am part of something amazing 🙂
My Stampin' Up! Business
This year I have celebrated some special Milestones and achievements – all of which make me very grateful for the opportunity to be a part of the  Stampin' Up! family for the past 11 years!
In August I reached the 600K CSV Milestone (just over $900K) and in October I celebrated 11 years as a Stampin' Up! Demonstrator!
Here I am receiving my 600K Milestone Award :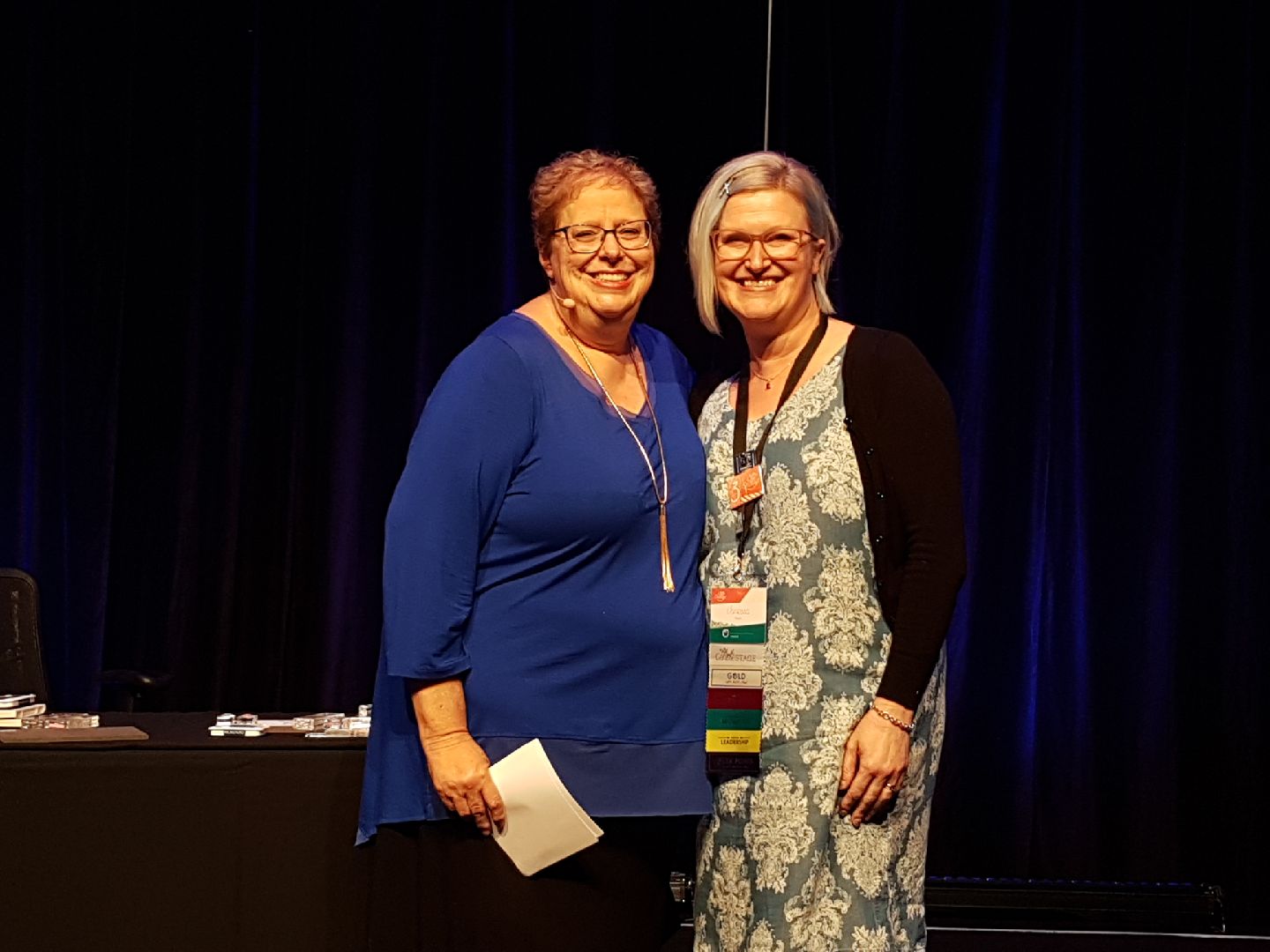 I am also honoured to be among the group of Demonstrators who earned the 2018 Alaskan Cruise, in the top 250 Globally (#197 out of 50 000 Demonstrators!) in the Top 15 for both Sales (#8) and Leadership (#11)  for my country and in the Overall Top 20 for Australia (#19)!
Stampin' Up! is more than just stamps, ink and paper…….it's a unique opportunity to build friendships and community as we collectively help others make a difference through our individual efforts on this creative journey. And the journey continues……..
Introducing the Stamparatus!
At our Onstage Event last weekend, we gathered to see the launch of the brand new Occasions Catalogue! One of the best parts of being a Demonstrator is that we  get early access to the new products before they are available to customers!
I will be posting again later about all the excitement of Onstage (include pictures of sneak peeks from the new catalogue!)
But for now I need to let you know about a BRAND NEW product that was announced at Onstage :

It's big news when something breaks the mold and changes everything. The Stamparatus will change the way you stamp, and before long, you'll wonder how you crafted without it! Why do YOU need one? You'll fall in love with stamping all over again when you learn everything you can do with it!
Make multiples with ease
Consistently stamp crisp, clean images
If you want a darker impression, apply more ink and restamp—no need to start over
Make fewer mistakes, saving time and money
Easily create 2-step, 3-step, and 4-step stamped images using reversible plates
Develop new and specialized stamping techniques with adjustable stamping plates and precision placement
I need product details!
Compatible with Stampin' Up!'s red rubber and photopolymer stamp
Foam mat to use with photopolymer stamps
Rulers and gridlines for quick measuring
2 open sides so you can stamp on larger paper
2 reversible plates: a total of 4 surfaces to work with
2 magnets to hold the paper in place
Magnet storage areas
Retail Price–$85.00 AUD
Here's a video demonstration about the new Stamparatus :

The first Reservation window has now closed. But, great news, you can still RESERVE your Stamparatus and to be shipped early next year BEFORE it is goes into the next Catalogue! Normally only Demonstrators get to pre-order new products before they are officially launched……..so you'll want to take advantage of this amazing opportunity 🙂
Reservation quantities are while supplies last.
Limit is 1 tool per customer per reservation window.
You may participate in multiple reservation windows.
In order to reserve your Stamparatus, you are required to provide your credit card information.
Credit cards will not be charged until the Stamparatus ships from our facility. When you close your order, be sure to verify that your credit card and shipping information is correct.
| RESERVATION WINDOWS | AVAILABLE TO SHIP |
| --- | --- |
| 17–30 November 2017 (CLOSED) | Approx. 1 February 2018 |
| 6–30 December 2017 | Approx. 19 March 2018 |
| 16–30 January 2018 | Approx. 15 April 2018 |
Click HERE for instructions on how to reserve yours!
To reserve your Stamparatus go to my Online Store from December 6-30 (the next available reservation window) and click on the Stamparatus banner.
Thanks for visiting…..I promise to update you again soon…..stay tuned for news from  Onstage!
NOVEMBER HOST CODE : RSHJEAQT
(use this code if your Online Order is under $250 before shipping to earn extra rewards!)
Click HERE to browse and shop my Online Store!
Follow my blog by clicking on the button to the right – don't miss a thing!
Follow my videos on Youtube!
Visit my Online Store to browse and shop the Catalogue, Clearance Rack and more!
Click to view the PDF of the current Annual Catalogue
Contact me SMS 0407 497 540 to request your own copy (Australian residents only)
SHOP NOW : www.vanessawebb.stampinup.net
Join my Stampin' Up! Community HERE.
Sign up for my newsletter to get regular updates and new catalogue announcements!
Subscribe to Vanessa's FB feed to see what I get up to in my studio – exclusive samples, videos, Give-aways and more!
Check out my Pinterest pages.