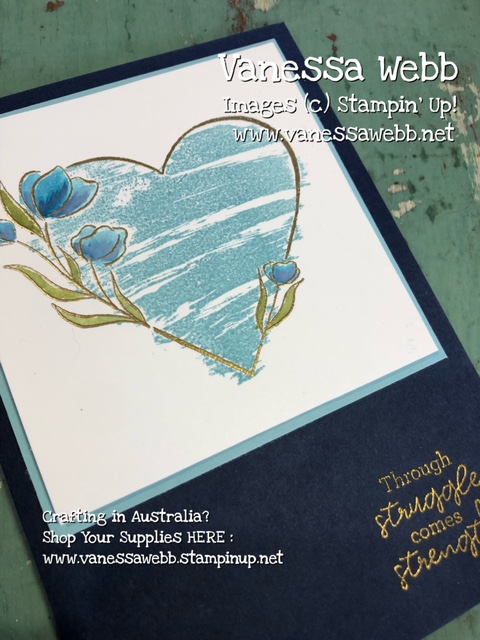 The saying "What doesn't kill you makes you stronger" and it's variations has been around for a while. It is a saying that many of us can attest to……..and……..what it is really about is resilience and change for the better.
I made this card for a friend and I will be including as part of the written inscription inside a verse from the book of James which speaks to the spiritual element of struggles : "Consider it pure joy, my brothers and sisters, whenever you face trials of many kinds, because you know that the testing of your faith produces perseverence. Let perseverance finish it's work so that you may be mature and complete, not lacking anything."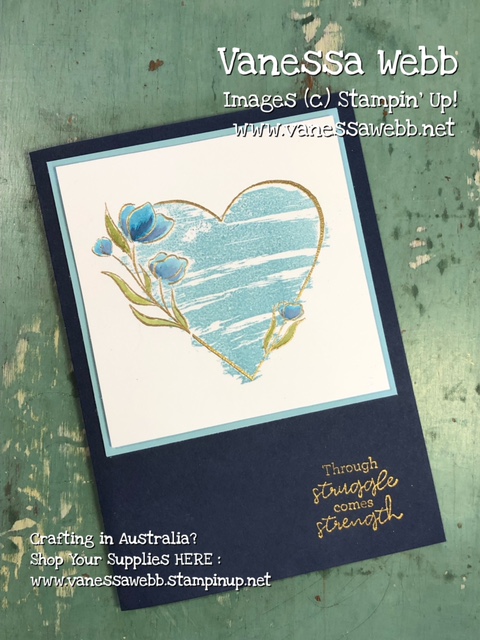 To me, this sentiment is perfect………..and sums up exactly what I want to say to someone who has had a hard time……to let them know that I see them and that I'm praying for them in their struggle.
The basic technique used on this card (apart from the heat embossing in Gold) is water colouring.
HINT : I stamped the heart in-fill in Balmy Blue before water-colouring the flowers and leaves over the top in Night of Navy, Misty Moonlight, and Old Olive using an Aqua Pen and the ink from my Classic inkpads.
Here's what I've used to create my card above (all items are available in my Online Store – just click on any image to browse and shop!) :
Product List