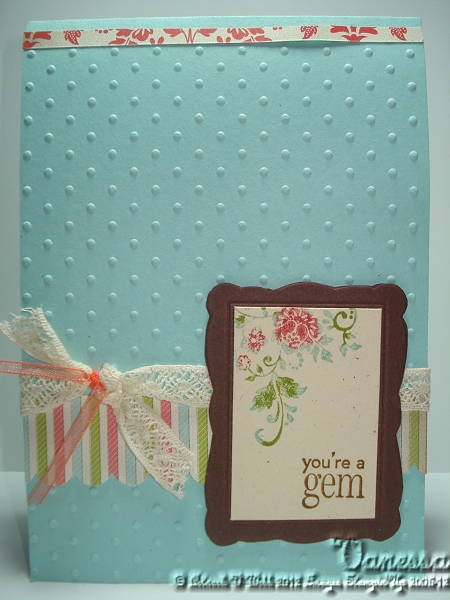 Working from home today, tidying my craft room and preparing some fun projects for my weekend workshops :)when I found these cards in my files and realised that I hadn't yet shared them with you!
The first card uses the gorgeous Fresh Vintage stampset from this year's Sale-A-Bration offering. To get the different colours on the flowers I have stamped the entire stamp first in Pool Party ink (the softest colour) then come in with my Poppy Parade and Old Olive Markers to add a touch of extra colour to the image.  TIP : When you are using markers you'll need to "huff" over your stamp to re-moisten the ink before stamping and you'll get a lovely result every time :).
I embossed the base of the card with the Perfect Polka Dots Embossing Folder in my Big Shot. You may notice that on cards cut this way the embossing folders leave a small gap in the embossing up the top of the card?  I decided to make use of that gap and created  two paper borders from the Everyday Enchantment Designer Paper. I simply punched out the Scallops with my Scallop Edge Punch and used the small strip (usually disgarded) up the top of the card – too easy! This saves a bit of time not having to cut a tiny strip; and paper too ;).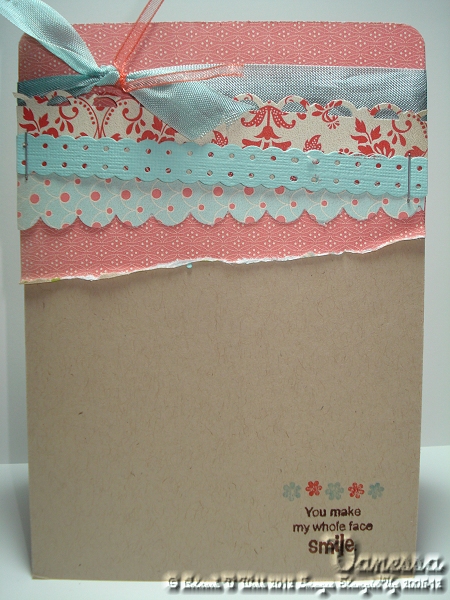 My second card has a similar layout, but this time I've just used scraps of DSP and cardstock; torn some of them, punched out some borders and layered them together at the top of the card with Snail Adhesive. I rounded off the corners with my Corner Rounder Punch to neaten the card up a bit and stapled the Pool Party strip punched with the Dotted Scallop Ribbon Border Punch before tying the Baja Breeze Seam Binding around the top. You'll notice a small piece of Calypso Coral ribbon tied around the knot of the ribbon on both cards (from the free Everyday Enchantment Ribbon and Brads Pack!) – I love this Organdy Ribbon…..it has a little sparkle and looks great on any project.
I've made use of my Markers on this card too……colouring in the flowers from the Sprinkles Expressions Stampset (another Sale-A-bration freebie!) in alternate colours of Baja Breeze and Poppy Parade.
So which one is your favourite? Leave a comment and let me know which card you like the best and I'll put you in the draw to win some beautiful Sale-A-Bration card samples 🙂
(This offer open for non-demonstrators  living in Australia only……but please feel free to leave a lovely comment anyway!)
Here's a list of the products I've used to create my cards, all available from Stampin' Up! –Sale-A-Bration items available until March 31!– through me.
Stamps : Fresh Vintage, Sprinkled Expressions Sale-A–Bration stampsets, Your a Gem stampset.
Ink : Pool Party Classic Ink Pad, Baja Breeze, Poppy Parade, Chocolate Chip Stampin' Write Markers.
Paper/Cardstock : Pool Party, Crumbcake, Chocolate Chip, Naturals Ivory cardstock. Everyday Enchantment DSP.
Accessories : Chantilly Crochet Trim, Baja Breeze Seam Binding, Calypso Coral Organdy Ribbon, Staples, Stapler, Perfect Polka Dots Embossing Folder, rectangle frame from Designer Frames Embossing Folders set of 2,  Big Shot, Paper Trimmer, Scallop Edge Border Punch, Scallop Dotted Ribbon Border Punch, Scallop Trim Border Punch, Corner Rounder Punch,  Snail Adhesive, Stampin' Dimensionals, Glue Dots.