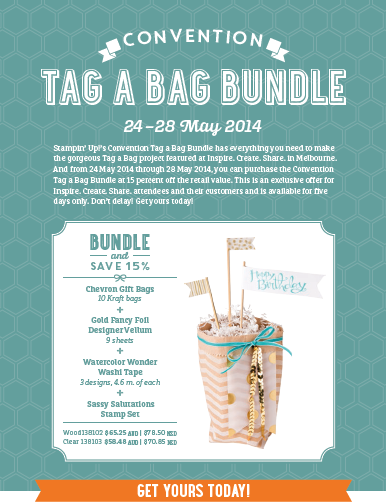 Exciting news! As a Stampin' Up! Convention attendee I have the opportunity to extend a special offer to YOU, my customer! During convention we learned how to make the gorgeous Tag a Bag project that you see here. Isn't it amazing? And here's the best part: from 24–28 May, you can purchase the exclusive Convention Tag a Bag Bundle for 15 percent off! This special offer is only available to convention attendees and their customers.
The bundle includes
Chevron Tag a Bag Gift Bags (item 131370) $6.95 AUD/$8.50 NZD
Gold Fancy Foil Designer Vellum (item 133363) $18.95 AUD/$22.95 NZD
Watercolor Wonder Designer Washi Tape (item 133000) $8.95 AUD/$10.95 NZD
Sassy Salutations Stamp Set (item 132070 W item 126707 C); W $41.95 AUD/ 49.95 NZD; C $33.95 AUD/$40.95 NZD
Wood-Mount Bundle (item 138102): $65.25 AUD/$78.50 NZD
Clear-Mount Bundle (item 138103): $58.48 AUD/$70.85 NZD
This offer lasts for five days only, so don't delay. Contact me today : stampin@vanessawebb.net to order your special bundle!