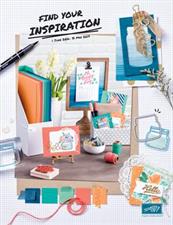 Soooooo……. here is my first share from the new catalogue here on my blog! This is actually the first project I created with new product – one of the make-n-takes at our On Stage event in Sydney last weekend. I ADORED the Affectionately Yours Specialty Designer Series Paper, Love and Affection stamp set and Floral Affection Textured Impressions Embossing Folders – so much so that I've ordered the whole suite in our Demonstrator Product Premier Pre-order ! As an attendee of On Stage I was the first to see and receive the new catalogue (together with all the other attendees!) as well as the first to be able to order from it 🙂
I'll be sharing some of my creations from my stash of goodies that arrived last week throughout the next few days…..but don't let that distract you from the amazing Retiring List bargains still available! Items are still heavily reduced (some up to 50%). See the fully updated list (including SOLD OUT items) HERE.
Follow my BLOG – don't miss a thing!
Sign up for my newsletter to get regular updates and new catalogue announcements!
Subscribe to Vanessa's FB feed to see what I get up to in my studio – exclusive samples, videos, Give-aways and more!
Follow me on Instagram for more fun and creative inspiration, search "STAMPINNESS"……see you there!