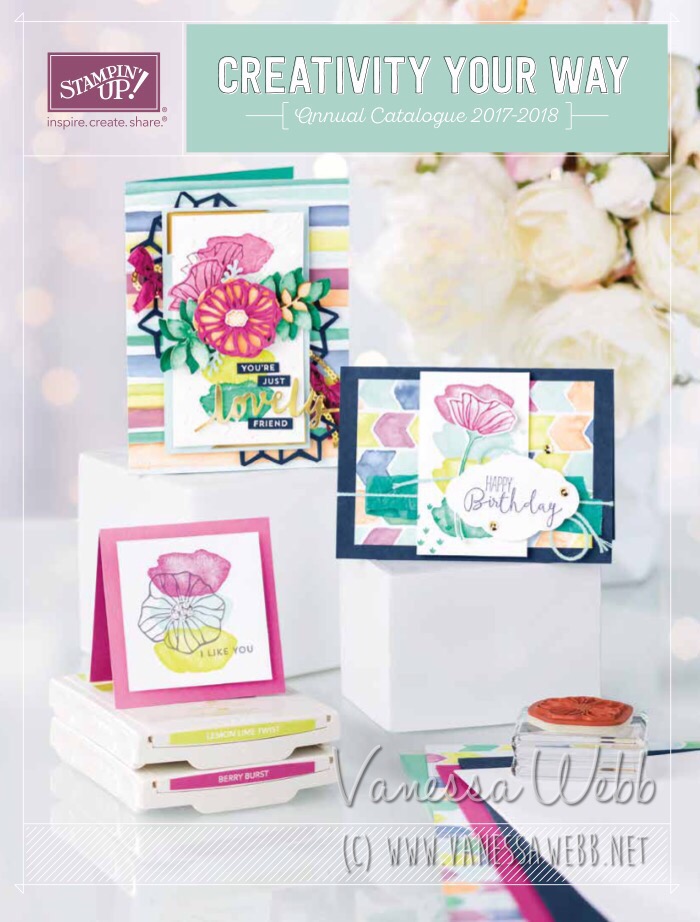 So excited about the launch of this catalogue in just 1 week's time! In the mean time YOU get front row seats today on some new catalogue sneak peeks from some of the best in the Stampin' Up! biz, world-wide. Welcome to this month's Thailand Achiever's Blog Hop!
This month our theme is the "2017/2018 Annual Catalogue Sneak Peek". We want to show you some of the AMAZING products that are available for demonstrators to order right now! So if you join you are able to get your hands on this new product early. You are going to love this new Annual Catalogue!
You may just be starting the blog hop here at my blog – Vanessa Webb – or you may have come from the person previous to me in the list. If you get off track at any time, the full lineup below will help you move along from blog to blog so you see all the projects. At the moment you are visiting Vanessa Webb. 
I couldn't stop at sharing just one creation this month. These new In Colors deserve to be shown off in all their glory……so I had to share them ALL with you!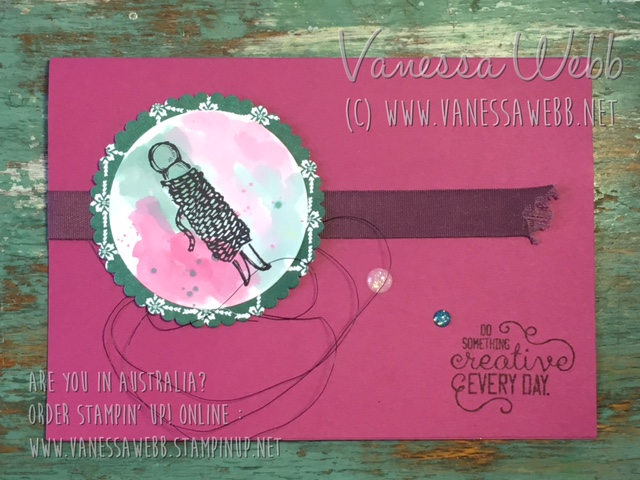 The first In Color is Berry Bliss – A cross between Rose Red and Rich Razzleberry……a gorgeously juicy and luscious colour…….think crushed Mulberries!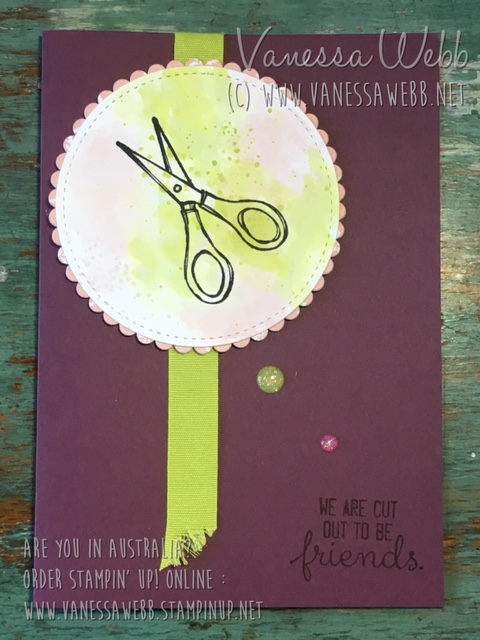 Fresh Fig – a deep, rich purple………… reminiscent of a velvety Merlot, dark, plummy and rich.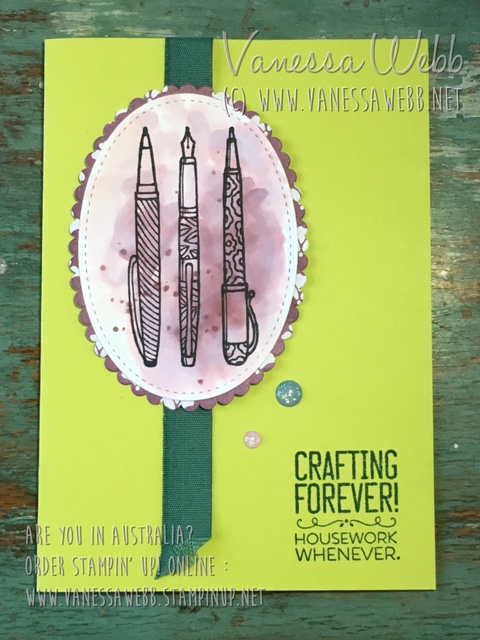 Looking for a pop of colour? Look no further! Lemon Lime Twist is your friend……..almost but not quite fluorescent green…….pretty much coordinates with any colour out there – the new "Old Olive".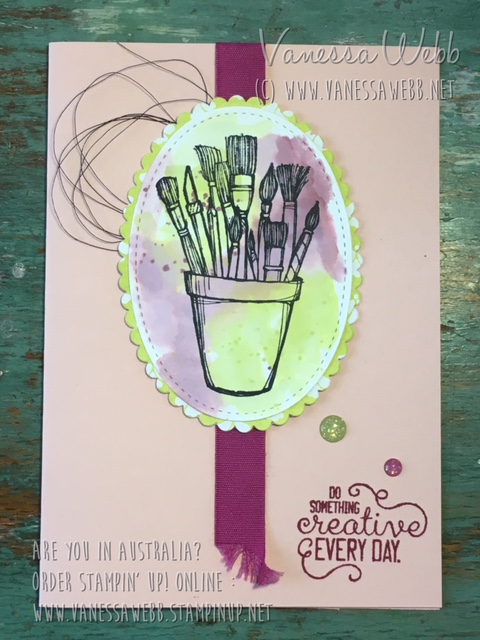 Ahhhhh….soft and delicate Powder Pink. A cross between Pink Pirouette and Blushing Bride………sublime.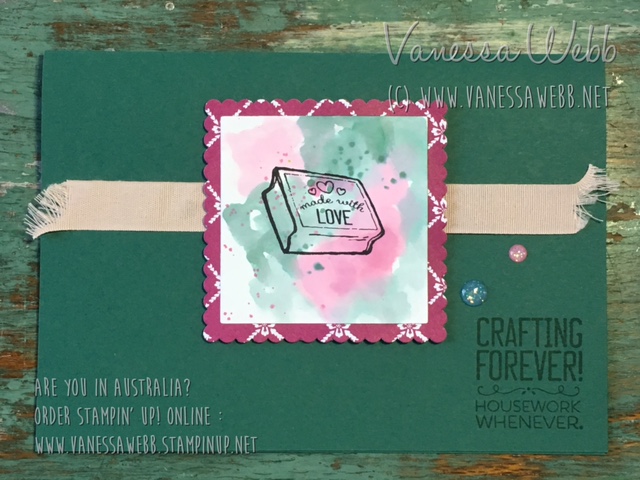 ……..lastly  : Tranquil Tide……like looking into a deep emerald lake, dipping your toes into the ocean…….still waters run deep…….what lies beneath…….and all that.
How gorgeous is this Stampset?! It's called "Crafting Forever" and it's a must-have in any crafty person's collection. It's also the new Angel Policy Stampset. You can sell products that you've made with Stampin' Up! copyrighted images if they include (c) Stampin' Up! on them – see HERE for more information.
Here they all are together :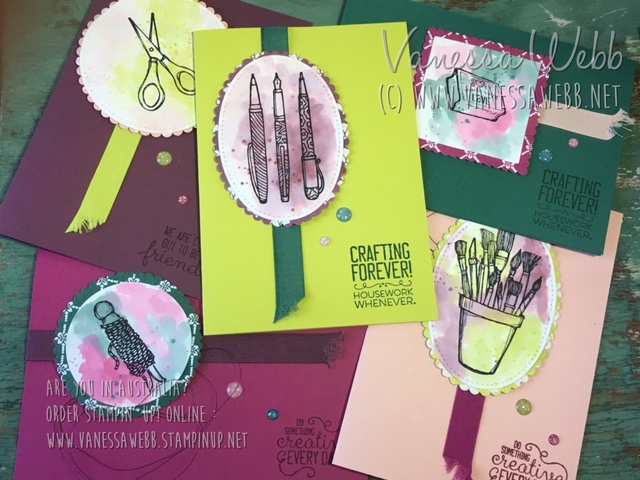 If you live in Australia and would like a copy of the new catalogue SMS  0407 497 540 or email stampin@vanessawebb.net "Catalogue Please" together with your shipping details and I'll send one to you!
See below for what I've used to create my stack of cards – all new products available NOW in your Starter Kit or  in my Online Store from June 1st 2017:
Product List

What an awesome time to join my team! On the Eve of this brand new catalogue…..some awesome possibilities lie in wait for YOU and the people you craft with! Click on the image below to find out more or HERE to order your Starter Kit now.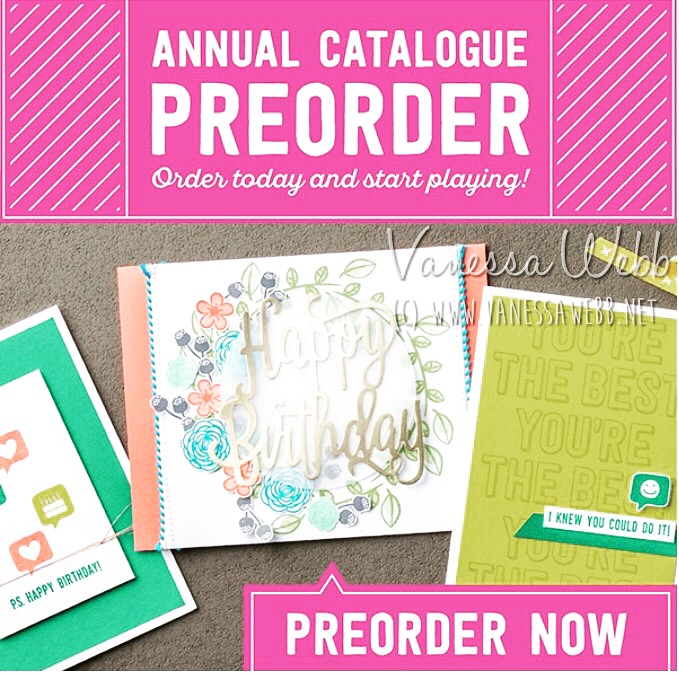 Click below to view the last chance Retiring List – sale ends May 31 :

Click below to view the Eastern Palace Special Bundle offer – ends May 31 :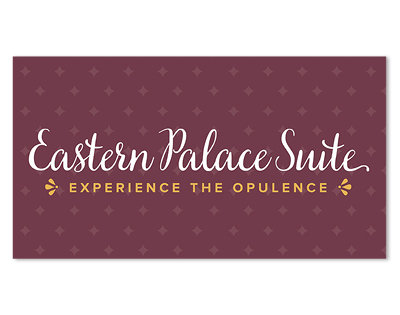 Thanks for taking part in our blog hop, there are so many amazing ideas and inspiration you don't want to miss. Remember that currently you are at my blog – Vanessa Webb, so check the blog hop line up list to see who is next in the list.
Click HERE to browse and shop my Online Store!
Want to know what's still available from the Retiring List? Simply search for the product in my Store by item code.
Follow my blog by clicking on the button to the right – don't miss a thing!
Follow my videos on Youtube!
Visit my Online Store to browse and shop the Catalogue, Clearance Rack and more!
Click HERE to view a copy of the current Occasions Catalogue
Click to view the PDF of the current Annual Catalogue
SHOP NOW : www.vanessawebb.stampinup.net
Contact me SMS 0407 497 540 to request your own copy (Australian residents only).
Join my Stampin' Up! Community HERE.
Sign up for my newsletter to get regular updates and new catalogue announcements!
Subscribe to Vanessa's FB feed to see what I get up to in my studio – exclusive samples, videos, Give-aways and more!
Check out my Pinterest pages.
Follow me on Instagram for more fun and creative inspiration, search "STAMPINNESS"……see you there 🙂