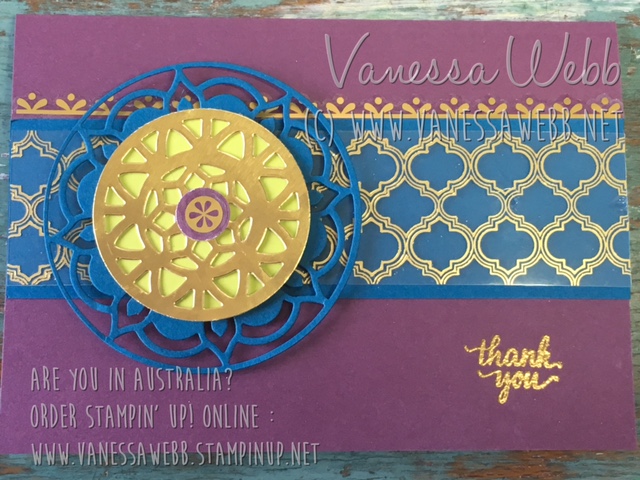 The new catalogue will be LIVE June 1st. You can view the PDF on my Blog or FB page or Stampin' Up! Website and start shopping your wishlist from that date too! If the Eastern Palace Bundle is one of your must-haves……then let me encourage you to add it to your stash NOW before this awesome deal ends 🙂
This amazing offer ends in a few short days on May 31 and although these fabulous products will be available individually when the new catalogue launches, these bundles will not! Pre-order yours today and save $$$! Individually the products in the Premier Bundle are valued at over $30 more than the special bundle price below.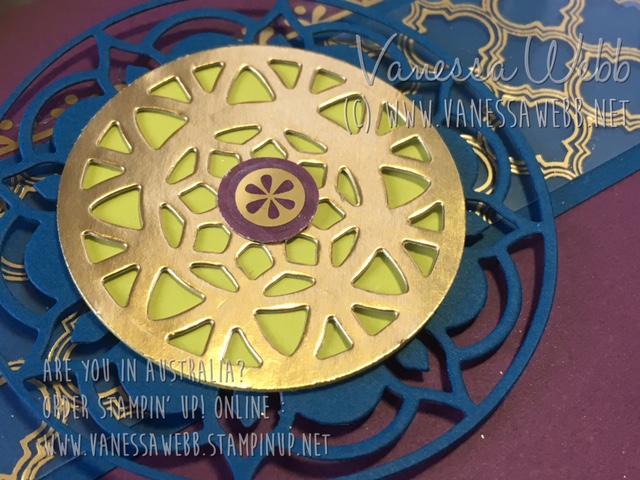 Click on the image below to learn more  :


We created the card above at Stamp Club this month! Here's a list of what we used for our project above, all items are available in my Online Store (click on any image to browse and shop NOW):
Product List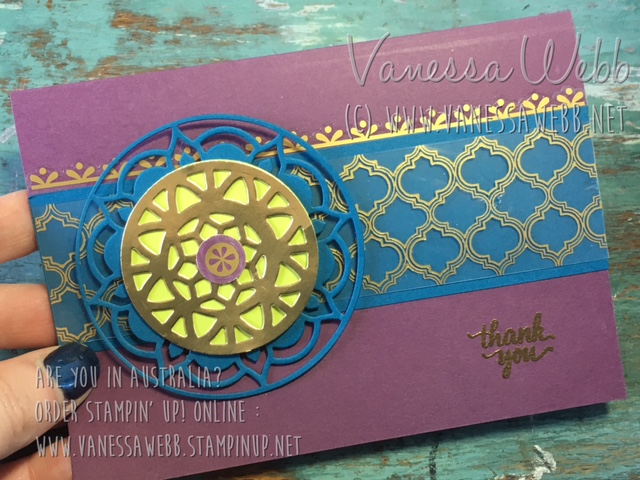 There are a few spots still available for Tuesday night Stamp Club starting in July (you are welcome to opt for either the online class or attend on another night if that suits better).
Stamp Club membership has it's privileges!
CLUB MEMBERS enjoy the following benefits:
FREE Monthly Class (either in person or online)
FREE current Stampin' Up! Idea Book and Catalogue (value = priceless!)
STAY ON A BUDGET – Do you have a long wish list? Are you a person who wants EVERYTHING? Pace yourself by building up your stamping supplies over time & staying on a budget.
Stampin' Up! Promotions – I'll be sure you're aware of any and all Stampin' Up! promotions.  This way we can find ways to earn you more FREE goodies during your Hostess Month.
GUARANTEED – $30.00 FREE PRODUCT!!! (We've had members earn $100+ in Host Rewards PLUS their choice of a 1/2 price item). Note: The total will go up as the month's workshop total goes up. When it's your month, feel free to invite friends to place orders or hold your own workshop at your place so your total goes up.
 If you can't make class one month I'll include your project pack in with your order and send photos of our exclusive projects for you to complete at home.
YOUR COMMITMENT INCLUDES:
ORDER – $50.00 Stampin' Up! order before shipping
6 MONTHS – Place your SU! order once a month for 6 months.  This ensures everyone in the club benefits from Stamp Club and Hostess Benefits!
ORDER DUE DATE – All Stamp Club orders are due by the date of the class held that month.
If you are placing your order online you will need to use the CLUB CODE for the month – I will send you your Project Pack and photos of our projects for that month once your order has been placed
Hostesses for each month bring along a light supper for us all to share.
Clubs are a lot of fun and are my favourite way to spoil my VIP customers 🙂
Spots are filling up now! So what are you waiting for? To reserve your spot & receive your FREE Catalogue contact me today – SMS 0407 497 540 or email stampin@vanessawebb.net and I'll send you more information and an application form.

Click HERE to browse and shop my Online Store!
Want to know what's still available from the Retiring List? Simply search for the product in my Store by item code.
Follow my blog by clicking on the button to the right – don't miss a thing!
Follow my videos on Youtube!
Visit my Online Store to browse and shop the Catalogue, Clearance Rack and more!
Click HERE to view a copy of the current Occasions Catalogue
Click to view the PDF of the current Annual Catalogue
SHOP NOW : www.vanessawebb.stampinup.net
Contact me SMS 0407 497 540 to request your own copy (Australian residents only).
Join my Stampin' Up! Community HERE.
Sign up for my newsletter to get regular updates and new catalogue announcements!
Subscribe to Vanessa's FB feed to see what I get up to in my studio – exclusive samples, videos, Give-aways and more!
Check out my Pinterest pages.
Follow me on Instagram for more fun and creative inspiration, search "STAMPINNESS"……see you there 🙂