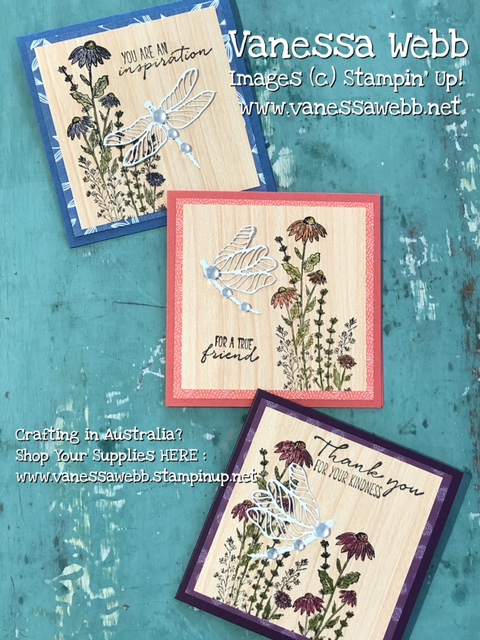 Just a heads-up that this gorgeous paper is still available but through May 3rd ONLY! As always, it's difficult to see how beautiful the texture is and what creative techniques it might lend itself to!
I created this technique to show the versatility of the Natural Touch Specialty Paper (available only for a limited time in the pre-released Butterfly Brilliance Suite. You will need to be quick to order it as it is not becoming available in the NEW Annual Catalogue!
The technique I've used here I'm calling Faux Folk Art……as it really does look a lot like you have coloured in hand-drawn images on raw wood before laquering over them.
Here's a close-up of one of the gift cards :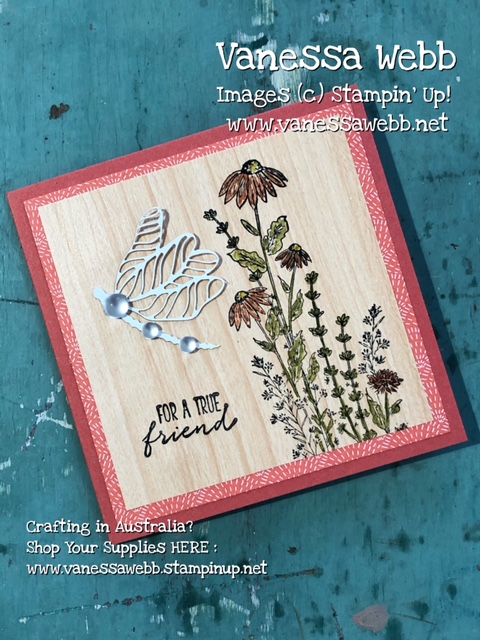 This project also used some retiring embellishments : The Frosted and Clear Epoxy Droplets – now available at 10% discount in my Online Store (just click on the Shop Now button below to browse and shop these retiring embellishments and more!) HINT : Image must be stamped in Jet Black Stazon to be colour-fast on the shiney Natural Touch Specialty Paper. Stampin' Blends (alcohol markers) must e used to colour in the line-art images. Be careful not to colour over the top of the lines of your stamped image as they could smudge, "dot" your chosen colour into the image using the smaller/finer tip of your Stampin' Blend.

Here's what I've used to create my cards above (all items available in my Online Store – just click on any item to browse and shop) :
Product List