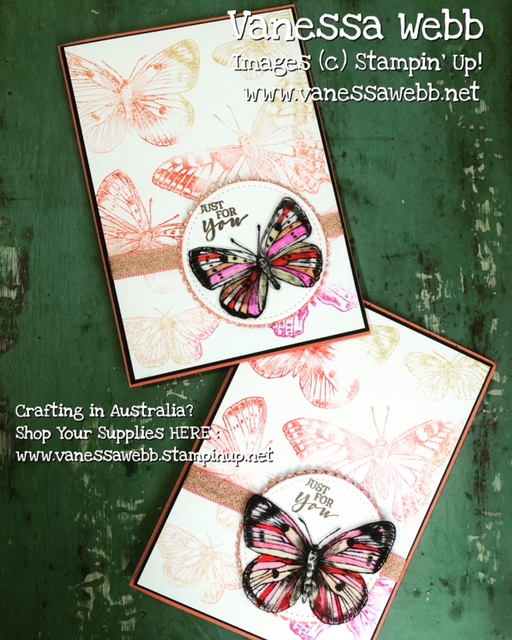 The pre-release of the Butterfly Brilliance Suite continues to be popular with stampers this month! In case you missed it, these products have been pre-released ahead of the launch of the new Annual Catalogue on the 4th of next month (that's Star Wars Day btw!)……and some of these pre-launch products are only available while supplies last!
With my card above, I've combined two different effects with the line-art stamps : the Stained Glass and Baby Wipe techniques. Don't those butterflies look realistic?
Stained Glass Technique
I started out by stamping the large Butterfly line-art stamp in Black Stazon on a Window Sheet before colouring in the image on the under-side using Stampin' Blends :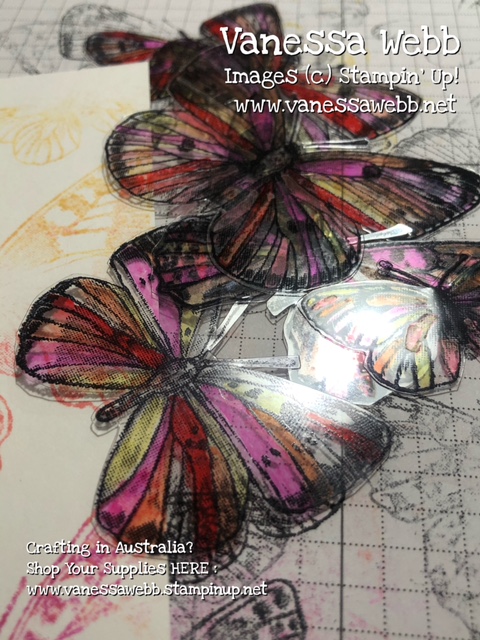 Baby Wipe Technique
The colourful background is stamped in multiple ink colours using the Baby Wipe technique (I created my own stamp pad in a baking tray using a couple of baby wipes layered together and some drops from selected re-inkers in my chosen colours).
Here is a great quick video tutorial by the lovely Lisa Curcio on how to recreate the Baby Wipe Technique at home :
New InColors(R) Sneak Peek
Psssssst………. FYI we are just about to get some new InColors (in inkpads, re-inkers, Cardstock and Designer Series Paper)…….here's a sneak peek!

Aren't they purdy??? I'll be revealing the names and more details of the new InColors in my up-coming email – be sure that you are registered on my email list to be in the loop. You can request a monthly inspiration email by clicking on the "Subscribe" button below and filling in your details!
Did you know that you can order the new InColors plus more from the upcoming NEW Annual Catalogue in your Starter Kit when you join Stampin' Up! this month?????
Email me on stampin@vanessawebb.net to request the full list of the pre-order items. You'll get to choose $235 worth of products for just $169 (this price included business supplies and a stash of new catalogues that will also come with your kit).
Alternatively, call or message me on 0407 497 540 if you have questions or would like to chat about joining the Stampin' Up! family and my Inky Fingers Team.
Click HERE to learn more.
Here's what I've used to create my cards pictured above (all products are available in my Online Store, click on any image to browse and shop) :
Product List